Early View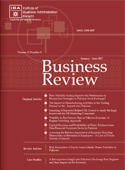 Next Article: Can investors benefit from momentum trading? Evidence from an emerging market
Browse Early View Articles
RESEARCH ARTICLE
What drives a textile firm to adopt an eco-label?
Naveed Hayat, Anwar Hussain and Heman D. Lohano
First published: 6 November 2018
Abstract
This paper investigates the factors that influence a textile firm's decision to adopt an eco-label. Logit regression is conducted using data from 128 textile firms listed on the Pakistan Stock Exchange. Results reveal that environmental performance, profitability, market share and firm size have significant positive effect on the adoption of eco-labels whereas tax burden has a significant negative effect. Furthermore, an exporting textile firm is more likely to adopt an eco-label than the others. Likewise, a yarn manufacturing firm is more likely to take on an eco-label relative to a fabric or textile composite manufacturing firm.
Keywords: Eco-label · Environment friendly products · Textile · Exporting firm · Logit regression.